Picture this, a young man commits suicide by jumping in front of a train because he has lost his job and the prospect of finding another job is almost nil due to austerity cuts. His individual story maybe a tragedy but his death is only another statistic in a figure totalling 10,000 suicides over a period of five years. To put it into context, that number could represent the total population of a village in Britain. Picture this, an elderly gentleman puts a gun to his head and shoots himself because he is afraid of the very real possibility that he will have to scrounge for food in dustbins.


Now, stop picturing these tragic scenarios and start coming to grips with the fact that these two scenarios are real life events that have occurred in Greece. The young man killed himself in May this year. The elderly gentleman, Dimitris Christoulas, shot himself in 2012. Both deaths were attributed to austerity. In fact, Mr Christoulas left a suicide note which blamed the Greek government of the day. He wrote: "…annihilated any hope for my survival and I could not get any justice. I cannot find any other form of struggle except a dignified end before I have to start scrounging for food from rubbish bins." Angry Greeks called his death a 'murder' and that it had sent a strong message to the world about Greece's struggle under austerity.
Greece will be voting on 5 July on whether to accept or reject the deal that it has been presented with by the Troika (International Monetary Fund, the European Commission and the European Central Bank). The deal put on the table calls for raised taxes and cuts in spending in Greece. The Greek Prime Minister, Alexis Tsipras, decided to call a referendum after repeated dead-end efforts to get the Troika to negotiate on more favourable terms to the Greek people.


According to The Guardian newspaper, if Greece had signed up to the Troika's demands the country's debts would still be 118% of GDP by 2030. Currently, the debt level is at 175% of GDP.


As ever, where there are austerity cuts there are pixels of human stories that make up a picture of misery and hardship which question the wisdom of austerity. There are two ways of looking at Greece: it has to answer to its' political masters who are the Troika and Germany as they are the creditors and where money is owed it has to be paid; and secondly, where the debtor is not able to pay back because previous repayments have resulted in very little benefit but high costs in the form of people starving, killing themselves and being unable to buy medication that they need to keep them healthy.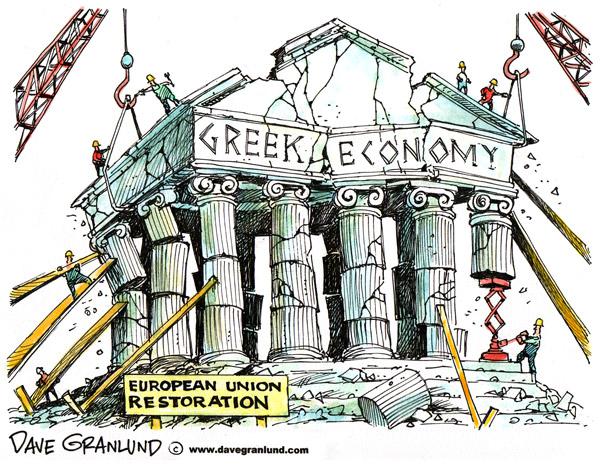 The choice that Greeks face is whether to continue with the status quo which will bring a guaranteed more of the same or whether to vote for 'Oxi' (which means 'no') that will result in their PM being given a mandate to negotiate for debt relief.






I know which one I would choose but I don't live there. I have had some fantastic holidays in Greece and it is a country full of hospitable people who go out of their way to provide good service. Whatever the outcome I hope that the story of people like Dimitris Christoulas will be remembered and factored into the potential human cost of any post-referendum negotiations that take place.


All the best Greece