Two women write about their experience of how and why they because Doulas:
"As we celebrate World Doula Week, we find ourselves reflecting on our own journey to become doulas and how this led us to the creation of an edited volume on doulas. "
After the birth of our first children in 2008, we separately found ourselves on the path to become doulas. The intense and transformative nature of birth captivated us and seemed an arena to nourish the interest we both already had in women's issues. We found supporting women in their transition to motherhood widely appealing, especially as we negotiated our own transition as parents. Shortly after formal training, we found ourselves advertising our services as doulas and taking on clients, including going into women's homes before their labour began, discussing their birth options with them, and then returning to provide physical and emotional comfort when they began to labour. Most women we worked with gave birth in the hospital, and as doulas we accompanied them in their transition from home to hospital.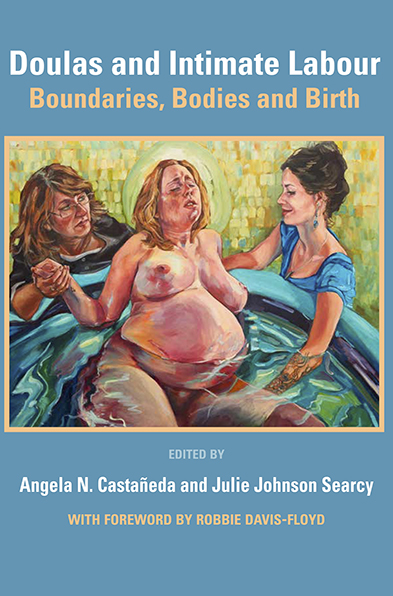 Book available from Demeter Press.
We each had our own separate experiences as we began attending births in the role of doula, but found ourselves talking and reflecting on what it was like to be a doula from both personal and anthropological perspectives. We supported each other throughout these experiences as we also observed and discussed the dynamics between doulas within our community and talked about what was required to professionalize as a doula. And as academics we looked to social science scholarship for some critical distance and insight about the work we were doing as doulas. It was the opening we found in academic scholarship and our own richly textured experience as doulas that led us to begin research on doulas in our community and which eventually led to this book: Doulas and Intimate Labour: Boundaries, Bodies, and Birth.
Too often the cultural tone around the discussions on reproduction center on binaries – home or hospital, cesarean or vaginal, non- medicated or medicated. This book highlights the role of the doula to move away from binaries and to help regain a sense of fluidity around birth. Thinking about birth through the lens of the doula allows us to raise questions about the nature of birth and the social actors involved in the culturally critical moments of reproduction. This book looks at the embodied and intimate labour doulas bring to birth.
Today the cultural landscape is changing, and we hear much more about doulas in academic circles and in popular culture. Doulas now work to support women across a reproductive spectrum providing their services to women experiencing abortions, adoption, incarceration, stillbirth, miscarriages, and during the postpartum period. Doulas provide emotional, physical, informational advocacy and help in negotiating relationships (Gilliland 2011). Doulas have no clinical training and are non-medical professionals but a growing body of research suggests that the presence of a doula supports physiological birth and healthier outcomes for mothers and babies (Hodnett 2002, Hodnett et al 2011).
The very nature of doulas intimate labour provides a unique analytic to engage the often contentious debates around reproductive care. Doulas move in and out of private and public places and build relationships that traverse families and institutions. Our goal in crafting this volume is to highlight the ways in which doulas operate in liminal spaces and engage in intimate labour. Doulas also provide a unique way to think through the complexities surrounding reproduction because of the embodied intimate nature of the labour they provide and due to their ability to navigate between and across boundaries.
Doulas negotiate boundaries and often blur the divisions between communities and across public and private spheres in their practice of intimate labour. This book weaves together three main threads: doulas and mothers, doulas and their community, and finally, doulas and institutions. The lived experience of doulas illustrates the interlacing relationships between all three of these threads. The essays in our collection offer a unique perspective on doulas by bringing together voices that represent the full spectrum of doula work, including birth, postpartum, abortion, community based, adoption, prison and radical doulas. We privilege this broad representation of doula experiences to emphasize the importance of a multivocal framing of the doula experience.
Our volume also values the diversity of voices and includes personal reflections from doulas on their everyday experiences with intimate labour as well as academic analysis of this work. From junior and senior scholars in Anthropology, Black Studies, Psychology, Social Work, Sociology, and Women's Studies, as well as practicing doulas, midwives and nurses, the essays in this collection serve to bridge the gap between lived and theoretical understandings of doula experiences.
This volume comes just as scholarly interest in doulas is beginning to swell – at a moment when the cultural impact of doulas is apparent from media and news agencies. As doulas move between worlds and learn to live in liminal spaces, they occupy space that allows them to generate new cultural narratives about birthing bodies. Critical analysis of doulas as they both encounter and redefine boundaries suggests new ways of approaching maternity care and reproduction reform. It also demonstrates larger social debates at stake in the discussions that surround maternal care
By
Angela N. Castañeda and Julie Johnson Searcy