Do people in a multicultural society adopt racial identities of others? I know of White teens who love rap music. I see White teenage boys walk around with their jeans pulled down below their underwear like the rappers do. There are mixed-race girls who classify themselves as White despite bearing a darker skin colour. Then there are mixed-race children whose skin colour is White, like my daughter, who consider themselves, well, mixed-race rather than identifying with one colour.
It's all enough to do your head in isn't it? To add a further complexity which trounces all other racial complexities is the case of a White woman who is not mixed-race but who passed herself off as a Black woman for 10 years. It isn't the 10 years that gets me so much as the fact that someone went to all the trouble to change their identity to join a group that is much discriminated against.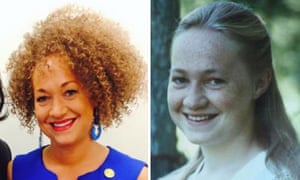 Rachel Dolezal, was a civil rights leader who worked at the National Association for the Advancement of Colored People in Washington. She was well known in her fights for racial equality but her parents outed her last week by telling the press that Rachel was their daughter and was not mixed-race in anyway. There was not even a smidgen of racial cross-overs in her ancestry. They were all White throughout their lineage.
Rachel has since attempted to defend herself. In her words: "I am consistently committed to empowering marginalized voices…Please know that I will never stop fighting for human rights and will do everything in my power to help and assist, whether it means stepping up or stepping down, because this is not about me, it's about justice".
Putting aside the legal considerations about whether she misrepresented herself in her employment contract, I think Rachel ought to be reemployed because anyone who goes to such lengths to fight anti-racism is a keeper. Anyway, according to social scientists (e.g Ruth Lister), race has no scientific basis as a classification of peoples because there is greater genetic diversity within groups classified as 'races' than between them. Race is seen as being a social construction rather than an empirical fact. If somebody wants to adopt another race then good luck to them. I thought Eminem was a Black rapper when he first came on to the music scene till I saw a photo of him some months later.